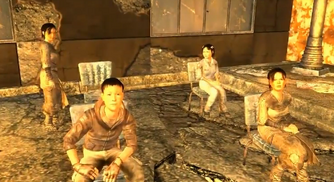 The Wasteland Defense School Students are a group of 4 students who are part of the REPCONN Teach-A-Kid-Touch-A-Life program. They appear in the mod series Fallout New Vegas: Wasteland Defense - School Time! The students consist of Timothy, Darlene, Susan, and Christine, along with their teacher, Mr. Dorinsonsons.
Al first meets the group of children after walking into the defense base and meeting with both their teacher and them. Al attempted to talk to some of the students, although most of them said they weren't allowed to talk to strangers. He became a little annoyed with one of the girls, Christine, for not properly taking her seat in class, but soon moves on to go and protect the base.
Sometime later, after fighting off some hordes, Al returns to the kids and attempts to teach Christine how to sit, but to no avail, as she continues to stand next to her chair and stare at Al. He then checks in on the kids periodically throughout the mod review and catches Christine trying to escape, although her plans are ultimately foiled. Near the end however, a huge assault of Nightkin and Super Mutants attack the base, which causes the children to panic and run around. The horde is eventually defeated though and Al checks on the students one final time. He is shocked to learn that they haven't learned the dance curriculum from Mr. Dorinsonsons and takes it upon himself to teach them.
Al remarks several times that these children are going to be the next leaders of the world.
Christine doesn't know how to sit down in chairs.
Susan was held captive by a Securitron Mk2 for a few minutes while the robot attempted to teach her instead of Mr. Dorinsonsons.
Ad blocker interference detected!
Wikia is a free-to-use site that makes money from advertising. We have a modified experience for viewers using ad blockers

Wikia is not accessible if you've made further modifications. Remove the custom ad blocker rule(s) and the page will load as expected.