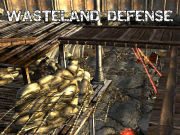 Wasteland Defense is the name of a  Fallout New Vegas mod. Your main objective in the mod is to create a full fledged town in the Mojave Wasteland.
Appearence in Al's Videos
Edit
Al originally had intended for a Wasteland Defence series to be a short one, and released a 5 part playthrough. Al kept returning to the mod, however, and soon enough had dubbed it "The Never Ending Series". It currently has 32 parts.
The first video: New Vegas Mods:Wasteland Defense Part 1
The mod page: Wasteland Defense by Elderwind
Buzz makes his first (and most likely last) appearance in an actual series here.
Al modified the sound file in the mod so that whenever he places something from the mod his voice saying "Buildin' buildings here!" is heard.
There is a Skyrim version of the mod known as Tundra Defense.
Gordon Freeman makes his first appearance in Al's videos here.
Al released a three part series in which he has to defend The Wasteland Defense School Students and Mr. Dorinsonsons. For some reason, he did not number these as a part of the whole series.
Ad blocker interference detected!
Wikia is a free-to-use site that makes money from advertising. We have a modified experience for viewers using ad blockers

Wikia is not accessible if you've made further modifications. Remove the custom ad blocker rule(s) and the page will load as expected.