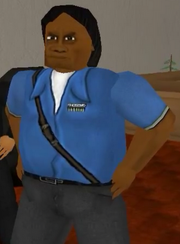 Warden Simpson
is a warden in the game Hard Time. He is in charge of the East block and made his first apperance in
Hard Time - Part 1
. 
Prison Life
Edit
Warden Simpson was a rather stern officer, often engaging in fights with the other prisoners and making sure some order was kept in the east wing of the building. Although supposedly an unbiased officer of the law, his main target of abuse was Paddy Sacker, who he frequently humiliated and punished, even going so far as to try and extend his sentence by taking him to the prison court. He also tried to attack Paddy on several different occasions, usually injuring him. Once Paddy was killed, it was presumed that he continued to serve as the leader of the east prisoners.
He has not been seen when Al began playing as Money Chunks, since he is in charge of the East block and Money has no reason to visit.
He can be seen as a villain-like character, as he antagonizes Paddy Sacker and makes his time in prison miserable.
Ad blocker interference detected!
Wikia is a free-to-use site that makes money from advertising. We have a modified experience for viewers using ad blockers

Wikia is not accessible if you've made further modifications. Remove the custom ad blocker rule(s) and the page will load as expected.