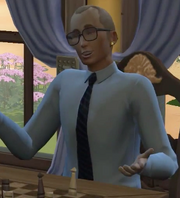 Vladimir Putin
is character in the game The Sims 4 who first appears in
Sims 4 - The Duggarts - Part 15
. He is an adult sim and owns a large house, which
The Duggarts
 visit.
Bobby and Harold first visit his house in episode 15, where they sneak around and investigate the various strange objects in the house. Eventually, Harold meets Vladimir and the engage in a game of chess. Al began complaining that he looked like a hipster and that he didn't wear glasses, comparing him to the real version of Putin. He later browsed the Internet, seemingly indifferent that he had guests in his house. In the following episode, after discussing death with Bobby, the boy returns home, leaving Putin in his house. 
He calls Bobby in episode 19 and is invited over, where he meets Emma Watson for the first time. He then joined Steven inside of his small house outside and joins him in watching television. Steven then flirts with him for a few minutes before he goes home.
The time set must be before or after Putin is president of Russia, for the town which he lives in during the series is not located in Russia.
Bobby and Augustus Burrows (a sim Al refers to as Lil' Kanye) had a fist to fist duel in his house but Bobby won with his cheeseburger strength.
He is the second "real life" character who appears in Al's Sims 4 playthrough. The first is Emma Watson. 
Al doesn't like Putin wearing glasses.
He is a hipster according to Al.
He was most likely created by Al. 
Bobby slept and spent a day in his house.
Bobby said/joked about how many things Putin cherished in his life were dead.
Al noted that Putin was still a world leader in their universe, suggesting either Oasis Springs is located in an climatically-alternate Russia or Putin leads a separate nation altogether.
During the visit, Little Kanye (Augustus) stole state secrets from one of Putin's many computers.
In episode 23, it was revealed Putin might have a son Al named Chuckie or 'Little Putin'
Ad blocker interference detected!
Wikia is a free-to-use site that makes money from advertising. We have a modified experience for viewers using ad blockers

Wikia is not accessible if you've made further modifications. Remove the custom ad blocker rule(s) and the page will load as expected.