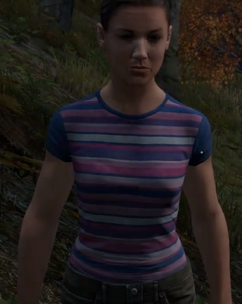 The President's Daughter
 (or 
Ms. Williamson
) is the unnamed daughter of President Williamson who was captured by terrorists and was awaiting to be rescued by C.I.A. operatives in 
TuesDayZ - The President's Daughter!
While at a humanitarian aid festival, Ms. Williamson was captured by terrorists. A week after her disappearance, The Central Intelligence Agency sent operative John McTornGuns to find her, who was soon declared Missing In Action after being killed by an unidentified sniper. The second operative sent in, Steven Talgumps, was also killed by an unidentified assailant. The third operative however, John Bolchenstevens, manages to locate Ms. Williamson only to learn that she had amnesia and had taken on a new personality under the alias "Viffi" (another player in DayZ). After being evacuated from a combat zone by Bolchenstevens, Ms. Williamson suddenly teleports away from John, leaving him to the conclusion that she had knocked him out and run away. The C.I.A. sent in one more operative named Chatty Poplin, whose efforts were met with no success and was killed by a lone gunman. There have been a few accounts of sightings of Ms. Williamson by the NCR and ALTA, though neither have been proven to be her.
Ms. Williamson's amnesia may have been a result of a coma and/or brainwashing by the terrorists
Along with believing her name was "Viffi", Ms. Williamson also came to the combat zone "looking for a friend" and believed she had been in area for 45 years, though she was only 26 years old.
The humanitarian aid festival Ms. Williamson attended was giving out cupcakes and smiles.
During the failed rescue attempt, Ms. Williamson didn't talk to John Bolchenstevens for long periods of time.
After being located in the Mushtoom Kingdom through a portal, the Anti-Lizard Terrorist Association sent Agent Mario (and a number of clones following his death) to retrieve the President's Daughter. However, after all of the clones where killed, Codename Echo decided to scrap the operation and send a nuke through the portal, possibly killing her.
In 2281, the NCR located the long lost President's Daughter captured by a group of Fiends and recruited Jesus Christ, shortly following his return, to save her. After eliminating the Fiends however, Jesus proceeded to punch her in the chest while wearing brass knuckles, causing most of her limbs to spontaneously dismember, killing her instantly. It is unlikely that this was actually Ms. Williamson as the girl found in 2281 was about 10 years old, while before her capture by terrorists, Ms. Williamson was 26 years old.
Ad blocker interference detected!
Wikia is a free-to-use site that makes money from advertising. We have a modified experience for viewers using ad blockers

Wikia is not accessible if you've made further modifications. Remove the custom ad blocker rule(s) and the page will load as expected.