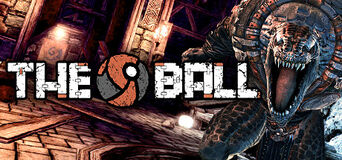 The Ball
is a first-person indie-action adventure game.
About the game
Edit
The Ball is a first person action-adventure game featuring a full single-player experience built on Epic's Unreal Engine 3 technology. As a swashbuckling archaeologist working on the slopes of a dormant volcano somewhere in Mexico, you get stuck in a cavern. It doesn't take long before you realize this is more than just a cave. You reveal ancient ruins that have been hidden from outsiders for centuries and discover a mysterious artifact, a gold and metal shelled Ball. As you progress towards solving the mystery of this amazing place you must unlock the secrets of The Ball and learn to control this ancient artifact. You will also start to encounter not just puzzles and traps, but also various strange creatures – the guardians of this mystery. These creatures also have to be overcome, using only The Ball to defend you. Venturing deeper into the volcano, you reveal some of mankind's greatest secrets.
In Al's reviews
Edit
He seems to not mind playing the game and has many adventures in it featuring his giant rolling ball named BB.
Al makes an incredible amount of Ball (testicle) jokes in this game.