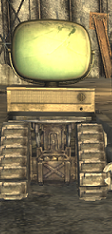 TVtron
is a custom made robot, made by Al. He is a minor companion.
TVtron first appeared in Fallout New Vegas Mods: Robco Certified - Part 1. He was made from a TV. He witnessed Herbert the Rat dancing with Steve when he was just a Television.
 However, "his" gender is not really known.
Al seems to have a dislike in TVtron's beam laser that comes out of his "face" because it makes a weird noise.
Steve has a liking in TVtron.
Ad blocker interference detected!
Wikia is a free-to-use site that makes money from advertising. We have a modified experience for viewers using ad blockers

Wikia is not accessible if you've made further modifications. Remove the custom ad blocker rule(s) and the page will load as expected.