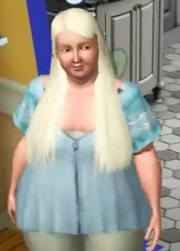 Stindy Motley
, otherwise known by Al as "Honey Boo Boo", is a former child who aged into a teenager who is now an adult and is a Sim created by Al in the game The Sims 3. She is a recurring character in Al's playthrough. She is the daughter of
Debbie Camacho
and
GooBorp Motley
. She has the traits Insane and Computer Whiz. She is a fairy with small green circular-shaped wings.
Stindy first appears in episode 73, during the fire at The Bistro. She, along with most of the other townsfolk, scream in terror at the growing flames before they are eventually extinguished. Bobby attempts to converse with her several times before she leaves, but is blocked by other people in his pursuit of her.
She appears again in episode 76, when Bobby visits her house. This time, Bobby is actually able to formally meet her and the two quickly become good friends. Despite her dogs need for food, Stindy continues talking to Bobby and ignoring the animal. As soon as her dad arrives home however, Stindy leaves Bobby alone outside while she enjoys a nice drink in her living room.
Mageru meets her for the first time in episode 83 at the local school while a fire occurs inside. She, along with the replicant Bobby, are freaking out at the sudden fire inside the school until Mageru extinguishes it. After he is done, he rudely introduces himself to her and the two start bickering until Mageru has to go home. She then goes to complete her homework with replicant Bobby, staying behind outside the school.
Although unseen, Stindy aged into a teenager sometime either before or during episode 101, as Bobby wanted to teach her how to drive. Al, however, didn't remember who she was, and told Bobby no.
In episode 106, she is seen driving home and greeting her mother as she arrives at her house. She scared Al, as her face hadn't loaded properly.
Although it is unknown who her date was, Stindy Motley was seen at the prom at the local high school in episode 117. It is possible her date was Replicant Bobby.
In episode 130, she, along with her dad, attended her high school graduation at city hall along side other students such as Robbie.
She is invited over to Replicant Bobby's birthday party in episode 132 and is shown to have aged into an adult between episodes. She laughs at the awkward guy dancing alone and then joins Robbie and Mageru on the dance floor.
Stindy is invited to another party in episode 133 and attends along with Robbie and Oscar. She disturbs another woman in the bathroom and continually plays a game on her phone while the woman tries to make her leave. After the other woman storms off, she tries to summon chocolate using her fairy powers. She later believed Jesus was coming for her and dropped her food on the floor of the house; leaving a few minutes later.
She appears in episode 134 at the local pool while Oscar is there. She appears wearing her graduation robes and enjoys a hot dog at the picnic table until Al becomes bored watching her and leaves. In the following episode, she asks Mageru out on a date to the park. He arrives early and, believing she isn't going to show up, leaves. She appears a few seconds later and he returns, allowing the two to flirt. After he short circuits, she panics and leaves him alone in the park.
In episode 137, she is seen with her dad and mom at the beach, in the middle of the night, under a full moon.
In episode 138, she flies by Al at a super speed using her fairy wings, as Al follows her and calls her Superman.
She is trapped in the fire at Claire Ursine's house in episode 139, stuck upstairs with another female sim. After breaking down every door in the house, Mageru makes it to her and convinces her to run, although she stands in place after thanking him for rescuing her while the fire continues to burn.
Stindy asks Mageru out on a date in episode 140, where the two of them go out to a local hotspot. Replicant Bobby soon shows up and begins flirting with Stindy, while she flirts back. Mageru blows up her car a few seconds later and Stindy reveals she no longer wants to be friends with Mageru. Both go home soon after.
She sent a love letter to a deceased Mageru in episode 145, telling him to ask her out on a date sometime.
Stindy's dog, Tompo Camacho, is portrayed to be somewhat ignored by Stindy and people in general. She ignores his request for food and his constant nagging about her fairy-type status.
GooBorp Motley, Stindy's father, is a zombie-werewolf hybrid. Interestingly enough, GooBorp is the sim that Al commonly calls "Daft Punk".
She is part of the Nerd Social Group, along with Robbie.
Al wanted to know why her body was so big yet her wings were so small.
It was revealed that she graduated from fairy school.
Ad blocker interference detected!
Wikia is a free-to-use site that makes money from advertising. We have a modified experience for viewers using ad blockers

Wikia is not accessible if you've made further modifications. Remove the custom ad blocker rule(s) and the page will load as expected.