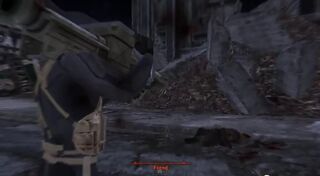 Rocket Propelled Chainsaw?! is a part of the Fallout New Vegas mods series. It was uploaded to YouTube by AlChestBreach on January 17th, 2012.
In this video, AlChestBreach reviews five mods.
Mods Reviewed
Edit
In the mod, the Panzerfaust is held incorrectly, although the mod maker has acknowledged this.
ED-E as a girl has a whole other set of sounds that can be used, but it is not seen in this video.
The ED-E as a girl mod turns ED-E into Aoba Anoa from Otomedius Excellent.