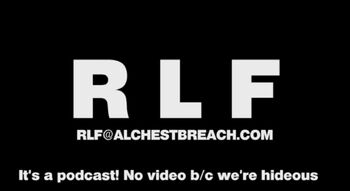 "Al and Friends discuss a myriad of random topics with no video! ENJOY!"
Real Life Friends is an ongoing podcast series started by Al on November 13, 2012. Al and friends answer questions submitted on twitter and emailed into the show. There is also a Fan Art and Advice Corner segment. The show's final segment is usually an ongoing story that Al and his friends star in, or a random game if one or more of the regular friends is missing. A new RLF is uploaded each Wednesday.
Most episodes start, with a "Who are you?" intro where the friends take turns introducing themselves. Al, as is tradition in most of his videos usually gives a crazy name at the top of the show as his introduction. Starting with episode eleven the friends also include their Twitter accounts as part of their introduction. The show follows a loose format of E-mail and or twitter questions, Fan Art, Real Life Stories, RLF Court, Advice Corner and finally The Story Time Adventure segment.
The Friends
Edit
The Podcast is hosted weekly by Al, Matt, Nicholi, Sych and Reggie. There have been guest hosts on occasions when one of the regular members is out for one reason or another. One of the regular guest hosts is Andrew from Boston.
Reggie was not on the show from the start, however she can be heard in the background of a few episodes before she was added into the intro. Reggie first appeared in Episode 10, the first time Reggie is included in the "Who are you?" intro
Al's Crazy Names
Edit
As he often tends to do in his videos, Al gives a crazy or random name when he introduces himself in the "Who are you?" intro of the show.
Here they are in order from Episode 1.
Segments
Edit
Here are the segments that the RLF podcast is split into. This only includes the segments that they have in each episode. These include:
RLF Court

Edit
RFL Court Rules: Each participant has thirty seconds to make their argument, Rock Paper, Scissors determines who gets to go first or second, winner gets to choose if they want to go first. There is a twenty second rebuttal for both participants. The other three friends will act as judges to determine who makes the better argument. Starting with Episode 72 the times where changed to twenty seconds to make the argument and ten seconds for the rebuttal.
Ep. 66: Hamburgers v. Hotdogs
Matt: Hamburgers v. Sych: Hotdogs
Judges: Al: Hamburgers, Nicholi: Hamburgers, Reggie: Hotdogs.
Winner: Hamburgers
Ep. 68: Boobs v. Dicks
Matt: Dicks v. Reggie: Boobs (Special Note: Matt cedes the point.)
Judges: Al: …, Nicholi: Boobs, Sych: Boobs.
Winner: Boobs
Ep. 72: Comic Books v. Video Games
Al: Video Games v. Nicholi: Comic Books
Judges: Matt: Video Games, Reggie: Comic Books, Sych: Comic Books
Winner: Comic Books
Ep. 74: Professor X v. Magneto
Sych: Magneto v. Nicholi: Professor X
Judges: Al: Professor X, Matt: Magneto, Reggie: Professor X
Winner: Professor X
Ep.169: Real Easter Eggs v. Fake Easter Eggs
Al: Real Eggs v. Reggie: Fake Eggs
Judges: Sych: Real Eggs, Nicholi: Real Eggs
Winner: Real Easter Eggs
Ep. 190: Donald Trump v. Hillary Clinton
Matt: Hillary Clinton v. Nicholi: Donald Trump
Judges: Al: Trump, Reggie: Trump, Sych: Clinton
Winner: Donald Trump
Real Life Stories
Edit
Real Life Stories are stories that the Friends tell that are actual stories about their lives. These don't occur on a regular basis and range from short quick stories to longer tales. These usually pop up in the middle of the show and derail the Friends off the topic that they started out on. Usually hilarious and sometimes unbelievable these are often the highlight of the show.
Story Time
Edit
Most episodes end with an interactive story, where one of the friends is in control of the story and sets up different situations and scenarios and then gives the others options on how to approach the situation.
~The first story was Matt's Mayan Temple Adventure. The friends are hired to explore the ruins of a lost Mayan Temple, in some unnamed South American Country.
~The second story is Nicholi's Zombie Survival Adventure. The friends find themselves trying to survive the horrors of a Zombie Apocalypse.
~The Third story is Al's Space Adventure. The friends are abducted from a birthday party and find themselves on an alien spaceship.
~The fourth story is Matt's Dino Island Adventure. The friends have won a trip to Dino Island! Once there they split up to visit the different Dino exhibits when a storm rolls in, will the friends survive on Dino Island?
~The fifth story is Nicholi's Ski Trip Survival. The friends, minus Nicholi, go on a ski trip and meet a family of four. The power goes out and one of the kids goes missing, will they make it out alive?
~The sixth story is Nicholi's Zombie Survival Adventure Part II. The surviving friends find themselves once again trying to survive the Zombie Apocalypse, with Matt and Nicholi already lost in Part I will Al, Reggie and Sych survive Part II or will this be their final Zombie Adventure?
Space Adventure
Edit
Episode Guide
Edit
Here you will find links to all the episodes of RLF.
Relevant Links
Edit
E-mail: RLF@alchestbreach.com
RLF Theme Song by Tommy Gunn 13
Twitter(s): @RLFYoutube @dibbs34 @NicholiRLF@SychRLF @ReggieTaters @AlChestBreach
Guest Host Twitter(s): @sirbizlow
Trivia & Other Random Facts
Edit
There are multiple 'Call Back' Dogs including: Regular Call Back Dog, Fancy Call Back Dog, Call Back Puppy, Rabid Junkyard Call Back Dog, and Dead Air Wolf.
Episode 7: The Mayan Temple Adventure begins.
Episode 11: The Friends sing 'Heart of Spades' as the intro.
Episode 16: The Parmesan Song was first created.
Episode 17: The Parmesan Song was first sung as the intro.
Episode 24: The Zombie Survival Adventure begins.
Episode 28: The guys sing Happy Birthday to ReggieTaters.
Episode 39: Al's Space Adventure begins.

Episode 52: The Friends reveal their faces for the first time on the show with the exception of Reggie who wears a bag and mask during the episode.

Episode 53: The theme song created by Real Life Fan Tommy Gunn 13 was first used. Also, Al's Space Adventure ends.

Episode 54: Dino Island Adventure begins.

Episode 58: The Friends film their gift exchange at the end of the episode and Reggie's face is revealed briefly for the first time.

Episode 60: Al mentions the Wikia and shares the link to the RLF Page.

Episode 65: The Ski Trip Survival Short begins, and ends.

Episode 66: The first RFL Court is brought to Order.

Episode 75: Matt, Sych, and eventually Reggie sing "Kiss From A Rose" from the movie Batman Forever.

Episode 106: Andrew aka @sirbizlow aka @dopesilly guest hosts the show.
Episode 120: Tommy Gunn13 guest stars on the podcast!
Episode 168: Jim guest stars on the podcast.
Episode 173: Andrew and George guest star on the Podcast
Episode 200: Is the final Episode on Al's Channel, the Podcast is now on it's own Channel..
Ad blocker interference detected!
Wikia is a free-to-use site that makes money from advertising. We have a modified experience for viewers using ad blockers

Wikia is not accessible if you've made further modifications. Remove the custom ad blocker rule(s) and the page will load as expected.