This page is about the montage featuring Osama Bin Brahmin. For the character, go to the Osama Bin Brahmin page.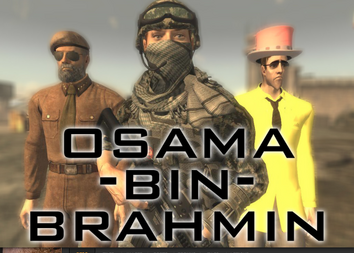 Osama Bin Brahmin was a montage uploaded to Youtube by AlChestBreach on May 3rd, 2011.
Sergeant-Lieutenant Hammerfist and his team of highly trained soldiers, Steve Gibbons, Dana Tyler, Melinda Chickens, and Bob Ripface, are tactically inserted near Osama Bin Brahmin's compound. They find themsleves in a sticky situation when these fiends, came out of nowhere. After eliminating them all. They would have turned off the music, but they couldn't turn them off because they did not have any damn silencers.  
They proceed anyways, battling Fiends and killing children, thinking that they are actually "Demon Robots". One of the survivors was Ronald Dillinger. Hammerfist then randomly killed a mole rat, thinking it was a threat. Ripface and Tyler were ordered to take away the children, while Hammerfist and Chickens went after Osama Bin Brahmin. 
As they reached the door to killing their enemy, Hammerfist has a conversation with Chickens and thinks she is a major racist as she could not tell which one is Osama. Hammerfist then threw a grenade into the room, severely injuring both Brahmin. Al then rushed into the room and he fired a bullet Once. Twice. Thrice. Killing both of them. Al and Chickens escape the compound, and Gibbons leaves the team for Hammerfist being a complete psychopath as he murdered fifty children. Ronald Dillinger, however makes his escape before Hammerfist's knowledge of it. 
The video was uploaded (and most likely made) within two days of the actual Osama Bin Laden's death.
A mod was made that is based off of this montage, which Al reviewed himself.