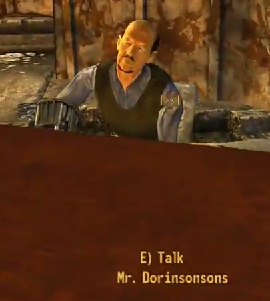 Mr. Dorinsonsons is the teacher of the children in the Repconn Teach-A-Kid-Touch-A-Life program in the Wasteland Defense - School Time! videos. He is equipped with a Power Fist for protection. His job is to teach the Wasteland Defense School Students while Al protects the fort from various attacks.
He is very serious about defending the children and will even risk his own life to stop them from dying.
Ad blocker interference detected!
Wikia is a free-to-use site that makes money from advertising. We have a modified experience for viewers using ad blockers

Wikia is not accessible if you've made further modifications. Remove the custom ad blocker rule(s) and the page will load as expected.