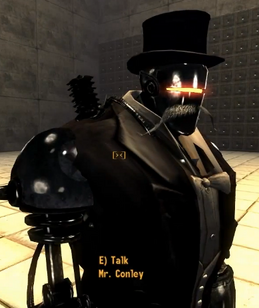 Mr. Conley is a very polite and sophisticated humanoid-ish robot who Al first meets in Fallout New Vegas Mods: A Trip to The Bank - Part 1. He joins Al as a companion, wearing a top hat and tuxedo. He also sports a handsome mustache.
Mr. Conley is first met when Al enters the bank building from the front. He is standing around a piano, ready to play it, until several hacked banking robots charge to attack Al and his gang. Conley steps in to assist Al, and after the fight, joins his team as he travels through the bank.
Al considered him a tour guide of sorts through the bank, as he knew his way around and helped him kill off the rogue robots. At the end of the mod review, Al invited him for tea and crumpets, although it is unknown if he joined Al. It is also unknown if he will appear again.
Al thinks he is well-behaved compared to his other companions, as he says all they do is shit everywhere.
It is unknown how Conley, as a robot, is able to have a mustache, although, as Conley is a gentleman, it would be rude to ask.
Al compares Mr. Conley to his previous temporary companion, Sahuagin, saying that he is actually useful and doesn't use a missile launcher at inappropriate times.
Mr. Conley has a very similar appearance to that of Liberty Prime, however Mr. Conley is much smaller in comparison and wears a tuxedo; one which Liberty Prime does not.
Ad blocker interference detected!
Wikia is a free-to-use site that makes money from advertising. We have a modified experience for viewers using ad blockers

Wikia is not accessible if you've made further modifications. Remove the custom ad blocker rule(s) and the page will load as expected.