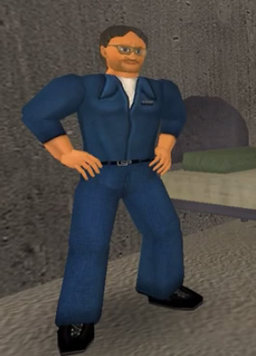 Money Chunks
is
Al's
current character in the game
Hard Time
who first appears in
Hard Time - Part 2
. He was put in jail for fraud with a sentence of 32 days.
Life In Prison
Edit
Money Chunks, like Paddy Sacker, is often bullied by the inmates and guards around him, although usually avoids conflict by running. He is often told by the black men that they don't like white people at the prison. Monkey Chunks spends most of his time making money through sorting papers at the library, or making drugs for the other prisoners. He is often asked by prisoners to be his body guard or by guards to cut him some slack for an hour, but for a price. Paddy often turns them down, resulting in the prisoners trying to fight him, or guards just giving him a harder time. Paddy also gets yelled at and even assaulted by guards for not being in bed after hours, even in the case that they announce the bed time seconds before.
His serial number is S-019

Al refers to his cell as "Sinatra 19" S-019 sounds like Sinatra. This is a reference to Frank Sinatra.

He enjoys doing the raptor dance.
Monkey Chunks shot the library guard several times with a machine gun, however the guard surprisingly survived, and forgave him right afterwards.
He likes to play basketball when he has the chance.
Unlike Paddy Sacker, Al considers Money Chunks to be a "good guy", regardless of being put in prison for fraud. Al tries to keep him out of fights, however he is constantly assaulted by the wardens and fellow inmates due to the game's poor AI.
Ad blocker interference detected!
Wikia is a free-to-use site that makes money from advertising. We have a modified experience for viewers using ad blockers

Wikia is not accessible if you've made further modifications. Remove the custom ad blocker rule(s) and the page will load as expected.