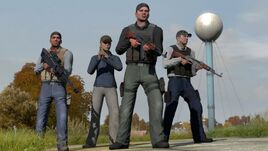 The Maple Syrup Bandits are a group of players that appeared in TuesDayz - Part 7 - Robocop. They are responsible for killing Al soon after he spawned.
Another player whom Al named Johnny was killed by the bandits within sixteen seconds of spawning.
While the bandits had all of the maple syrup, they lacked the waffles to go with it. Al offered the bandits waffles, but was quickly killed by them.
The bandits do not like waffles.
One of the bandits is supposedly named John.
The leader seems to be an insane soul eating clown.
Ad blocker interference detected!
Wikia is a free-to-use site that makes money from advertising. We have a modified experience for viewers using ad blockers

Wikia is not accessible if you've made further modifications. Remove the custom ad blocker rule(s) and the page will load as expected.