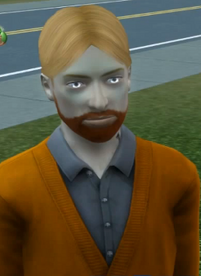 Ludo Vicco is a sim from the game The Sims 3 and is a recurring character in Al's playthrough of the game. He is a Young Adult and is one of Bobby Duggart's friends and roommates at college. He is a vampire and is majoring in Technology. He has the Ambitious, Genius, Evil, Commitment Issues, and Light Sleeper traits.
Ludo is first encountered in episode 121, upon Bobby's arrival at college. After both choose a room, Bobby and Ludo begin bonding over Plasma Juice and other vampire-esque things, as both are vampires. Bobby showed him his goldfish porn before leaving to play guitar.
He is present at Rex Lovelace's party in episode 122 and is seen running away when Bobby begins streaking. Sometime later, he and the other members of the dorm respond to the large fire that ensues in the building, although he does nothing to help extinguish it. He was one of the only people to not catch on fire.
Bobby and him start studying together in episode 123. Bobby almost falls asleep while doing so. They were called "The Hippie Nerds" by Al.
He is seen saying goodbye to Bobby on his way back to his town in episode 126. It is unknown if he will see anyone from the Duggarts again.
His name may be a reference to the fictitious Ludovico technique from the novel 'A Clockwork Orange' by Anthony Burgess.
Al refers to him as the "Hippie Hippie Vampire".
He frequently thinks about watching porn on computers.
He wants to take out his teeth and put them in a bunny.
While they both like plasma, Ludo Vicco hates vampire teeth while as Bobby likes them.
He is the third vampire in the series aside from Bobby and excluding deceased Harold. Sandi French is the first and Debbie Camacho is the second.
Ad blocker interference detected!
Wikia is a free-to-use site that makes money from advertising. We have a modified experience for viewers using ad blockers

Wikia is not accessible if you've made further modifications. Remove the custom ad blocker rule(s) and the page will load as expected.