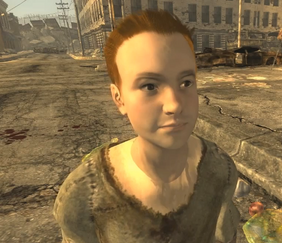 Jimmy is a young boy who lives in Freeside. He appears in Fallout New Vegas Mods: NV Hunters Association - Part 3.
He purchases a "Gore Gun" from Al posing as a street vendor for 35 caps. Instead of shooting it however, he begins peeling off the dead body parts to open up the gun and inside he finds a Goo Goo Bar.
An old man approaches Jimmy and tell him to run straight home with the Goo Goo Bar and to not stop for anyone. Jimmy begins running away with the Goo Goo Bar, singing happily about it until Al pops up from behind a destroyed car and shoots the boy, stealing the bar and running back into his van to drive away
Jimmy's character is a spin-off of Charlie from "Willy Wonka and the Chocolate Factory," where Charlie finds a golden ticket instead of a Goo Goo Bar.
Al shot and killed Jimmy because he needed the Goo Goo Bar for a mission.
Ad blocker interference detected!
Wikia is a free-to-use site that makes money from advertising. We have a modified experience for viewers using ad blockers

Wikia is not accessible if you've made further modifications. Remove the custom ad blocker rule(s) and the page will load as expected.