This page is about the human named Jesus Christ. For other characters named Jesus, go to the Jesus or Jesus (Robot) pages.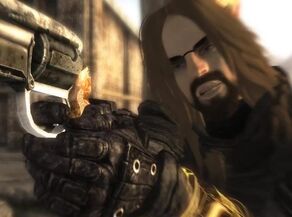 Jesus Christ 
is a badass escaped prisoner of Caesar's Legion with sweet Rock 'n' Hair. He does not remember who he is.
Jesus Christ was given a mission by the NCR to save the President's daughter. When he found the president's daughter he punched her straight in her face. After that Jesus met a poor young man named Timmy who lost his dog, Jesus then stole a type XRE Vertibird and and so his journey began.
Ad blocker interference detected!
Wikia is a free-to-use site that makes money from advertising. We have a modified experience for viewers using ad blockers

Wikia is not accessible if you've made further modifications. Remove the custom ad blocker rule(s) and the page will load as expected.