Hoovers

Hoovers in Goodsprings

Original Mod

N/A

Gender

N/A

Race

First Appearance

Last Appearance

Family

[1] Al (Creator)

Enemies

Status

Alive

Alignment
Hoovers
is a robot pony and a temporary companion of Al's who first joins him in
Fallout New Vegas Mods: DIY Deathclaw Duster! - Part 1
.
The robot pony is first seen in Fallout New Vegas Mods: Skunkwater Gulch - Part 4 as an NPC named Buttercup that used to live under the watch of a zombie named Chester. Al seemed pretty interested in him and created a custom companion mod from the original model, but named it Hoovers.
Appearances
Edit
He follows Al for the first time later in the DIY Deathclaw Duster video, but dies defending Al from Enclave soldiers in Fallout New Vegas Mods: DIY Deathclaw Duster! - Part 2. Hoovers' body was turned into goo due to the Enclave using plasma weaponry. Al mourned his death, telling several of his other companions to promise him that they won't go away like Hoovers did.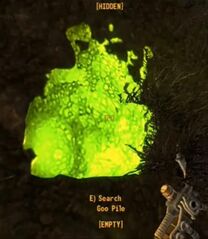 Hoovers was somehow resurrected by the NCR and put in an elite unit of
Business Radroach
hunters made up of other former companions. This unit helped Al in his assault on the Business Radroaches' bunker in 
Fallout New Vegas Montages: The Return of Janet!
Hoovers was originally owned by Chester: a zombie.
Hoovers had no gender as Al did not have the time to decide.
According to Al, Hoovers likes smelling everything (especially butts).
Hoover is is a Giddyup buttercup robotic toy horse.