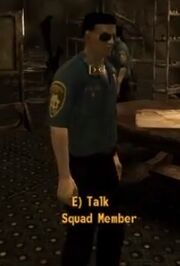 Harrison is an NPC that works in the base of Chopper Cop team. He is seen in Fallout New Vegas Mods: Chopper Cops - Part 1. Harrison hopes that one day he might make it to Corporal Rank. Harrison does a lot of paper work for the Chopper Cops team but sometimes goes out on missions when needed.
No one has seen Harrion's eyes.
Harrison doesn't seem to like Al when he first meets him, although he laters tries to join him but gets rejected. 
Ad blocker interference detected!
Wikia is a free-to-use site that makes money from advertising. We have a modified experience for viewers using ad blockers

Wikia is not accessible if you've made further modifications. Remove the custom ad blocker rule(s) and the page will load as expected.