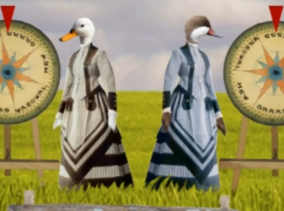 The Goose Girls are a pair of female geese featured in Indie Sunday! - Cat Gentlemans Play. They exist for the sole purpose of spinning the wheels for Reginald the cat and Franklin the tiger. They have their own song entitled "We are the Goose Girls".
The Goose Girls may actually be Duck Girls.
You can insult the Goose Girls for .10 cents.
Spinning the wheel initiates the fued between Franklin and Reginald.
Ad blocker interference detected!
Wikia is a free-to-use site that makes money from advertising. We have a modified experience for viewers using ad blockers

Wikia is not accessible if you've made further modifications. Remove the custom ad blocker rule(s) and the page will load as expected.