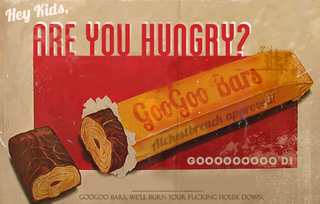 Goo Goo Bars are a food debuting in A Very Corgi Thanksgiving. AlChestBreach reviews the Goo Goo Bars Vendor mod in Enclave Commander - Marine Edition. This ultra-sweet candy bar has been known to cause diabetes, and its marketing campaign is unusually aggressive. The mod can be found here.
Goo Goo Bars sponsored the Thanksgiving special A Very Corgi Thanksgiving.
Placed second in Dan Linger's Top Ten Ways to Get Diabetes 2011.
Goo Goo Bars are made with beaver chocolate.
Goo Goo Bars are know to cause insanity and make the consumer burn their own house.
Goo Goo Bars are known to cause diabetes.
Goo Goo bars are actually a real candy named Goo Goo Clusters.
Several advertisements for Goo Goo Bars appear in the New Vegas Mini-Christmas Special.
Ad blocker interference detected!
Wikia is a free-to-use site that makes money from advertising. We have a modified experience for viewers using ad blockers

Wikia is not accessible if you've made further modifications. Remove the custom ad blocker rule(s) and the page will load as expected.