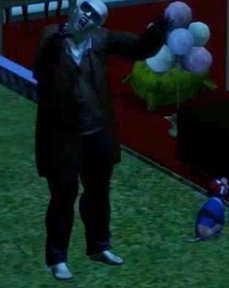 GooBorp Motley is a motorcycle helmet-wearing, zombie-werewolf hybrid and a sim created by Al in the game The Sims 3. He is the husband of Debbie Camacho and the father of Stindy Motley and is a recurring character in the series.
GooBorp Motley first appeared as a zombie in episode 50, as he rose from the ground at the Duggart house. He was the infamous zombie who came and tore up the Duggart garden in front of Zelda and Gumbo. He disappeared as soon as morning came.
He is only spotted in various background shots for a while until he resurfaced in episode 76, returning home from work. He was in his werewolf-like state. He stared at Bobby as he passed but ignored him for the most part.
He appears again in episode 86 during a full moon as a zombie, rising up from the ground while Bobby was on his date with Kimmy. He wanted to feast on Bobby's body, but Bobby ran away in terror, leaving him behind. He feasted on cheeseburgers instead.
He rose again in episode 97, right in front of Bobby and Kimmy while they were arguing, wanting to feast on their brains. Al yelled at him that this wasn't a good time, and watched him hobble away.
GooBorp makes another appearance at a house during episode 118, while Bobby is expelling angry ghosts from the building. Al remarks that he looks like a douchebag and is fatter than Bobby. He later freaks out when GooBorp transforms into a werewolf in front of him. 
He appears in episode 130 at the city hall for Stindy's and Robbie's high school graduation.
In episode 137, he appears at the beach with Stindy and Debbie, in his werewolf state.
He is commonly referred to as "Daft Punk" by Al.
It is unknown how he is both a zombie and a werewolf, although it is possible he is an advanced species of both.
Al called him the uglier Bobby. 
Ad blocker interference detected!
Wikia is a free-to-use site that makes money from advertising. We have a modified experience for viewers using ad blockers

Wikia is not accessible if you've made further modifications. Remove the custom ad blocker rule(s) and the page will load as expected.