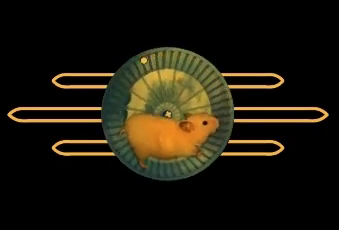 Geronimo
is a hamster that shows up as the loading icon in
AlChestBreach's
Fallout: New Vegas videos.
Geronimo appears for the first time in the video Fallout New Vegas Mods: Angel Park - Part 1.
Geronimo Is a hamster. As said by Al himself: "Go hamster go".
Through Al's lively imagination, Geronimo has been given a unique personality, like most companions. In the loading screens he will commentate the situation. For example, when Al had accumulated a large number of followers, Geronimo commented on the likeliness that the game would crash when they walked into a small tunnel.
In the same video, AlChestBreach goes to a location in the Robco Certified mod called Fort Geronimo. [1] [2]
Geronimo is the first "companion" gained by Al in his Fallout New Vegas playthrough.
Ad blocker interference detected!
Wikia is a free-to-use site that makes money from advertising. We have a modified experience for viewers using ad blockers

Wikia is not accessible if you've made further modifications. Remove the custom ad blocker rule(s) and the page will load as expected.