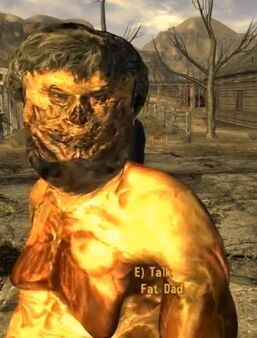 Fat Dad
is a fat, naked father who makes his first and only appearance in
Fallout New Vegas Mods: X Squad - Part 1
. He was captured by Fiends in the year 2281.
Fat Dad is Gorp's father and was abducted by raiders. He made his first appearance in one of the X-Team mod videos. To demonstrate the X-Team mod, Al created his own quest mod and he had to rescue Fat Dad from Fiends. After Fat Dad was rescued he was returned to his daughter Gorps, he was later killed by the NCR.
Fat Dad was made by AlChestBreach.
Fat Dad has a daughter named Gorps.
His body type (Chunky Duncan Race) is the same one used on Fat Fuck Boone.
He has no clothing at all.
He masturbates in the dark.