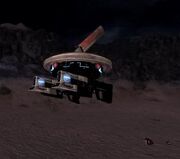 Dingy BicLingDong is one of two Warhammer 40k Tau Drone companions reviewed by Al.
In Al's videos
Edit
Dingy BicLingDong made his first appearance in Companion Threefer!. Al decided to take two drones in case of poor performance but they would later prove quite deadly. Originally, Dingy was named Kor'vesa 52.L#49, but Al used a console command to rename the drone. Al was impressed with his and Bimmie James' fire power. Dingy BicLingDong and Bimmie James made a reappearance starting in Fallout New Vegas Modded - Part 66 along with the other three Tau Drone companions which Al had previously left inside of the tent.
The Tau Drones later returned in Prove Your Worth 3 - Part 3 , though it is unknown if Al considered them to be the same Bimmie and Dingy.
Despite their firepower; the volume of their weapons, coupled with their tendency to attack long after a fight had concluded usually irritated Al.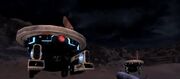 Ad blocker interference detected!
Wikia is a free-to-use site that makes money from advertising. We have a modified experience for viewers using ad blockers

Wikia is not accessible if you've made further modifications. Remove the custom ad blocker rule(s) and the page will load as expected.