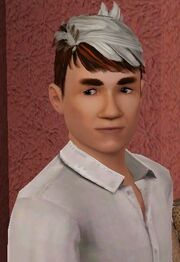 Dakota Fox
is a pre-made sim in the game The Sims 3. He starts the game as a toddler, although has aged into an adult sim in
Al
's Depressed Cop playthrough of the game. He is Donny 
Cop
's friend and currently, his only known traits are Loves the Outdoors and Easily Impressed.
Dakota is first met in episode 38, when he and Donny are both invited to the same party. After chatting for a bit, the two proceed to break it down on the dance floor with Michelle Hopkins and her husband. The two are having a good time until the host of the party, Gracie Loveland, kicks Donny out for making her party lame. It is presumed he continued to party even after his friend left.
He's a merman.
Al thought a bird pooped on his head.
He seems to enjoy art.
Ad blocker interference detected!
Wikia is a free-to-use site that makes money from advertising. We have a modified experience for viewers using ad blockers

Wikia is not accessible if you've made further modifications. Remove the custom ad blocker rule(s) and the page will load as expected.