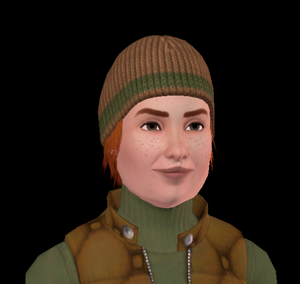 Claire Ursine
is a pre-made Sim from The Sims 3. She was a recurring character in
Al
's playthrough of The Sims 3. She indirectly caused the catastrophic events of episodes 25-26. 
Claire Ursine
Edit
Claire was Henry "Bobby" Duggart's former crush and old friend. She was engaged to Abraham Finkel until he was murdered by Bobby. She had a young adult daughter named Cassie and a cat named Hannah. Claire was also a Hooker in the Criminal Career. It appears that she knew nothing of how Abraham died and how it happened, as she remained in contact with the Duggarts.
It was revealed by a message from the game that Claire Ursine died in episode 52, although it is unknown how she died, though it was most likely of old age.
R.I.P Claire Ursine
Episodes 5-52
She goes on frequent dates with Steven Duggart.
Despite being engaged with Abraham, Cassie is not their child. Cassie is in fact the illegitimate daughter of Claire and her ex-boyfriend Jared Frio.
After Claire gave birth to Cassie, she was constantly laying on the ground of the house as an infant in the middle of the living room. Al was concerned she'd get stepped on, but did nothing to move her out of the way.
She asked Steven out on a date in Episode 27. When he arrived on the date, she failed to show up. Then in Episode 28, she asked him out on another date but got turned down because she probably wasn't going to show up again.
When Claire died, Al didn't give a shit. 
Although she is deceased, her daughter is still alive and was seen at Malcolm Landgraab's pool party in episode 115. It was revealed that she is a werewolf and was seen fighting with another werewolf, Holly Alto, at the party.
Her house was possessed by ghosts in episode 119. Her cat, Hannah, was the only one at the house at the time.
Connor Frio is Cassie's uncle.
Ad blocker interference detected!
Wikia is a free-to-use site that makes money from advertising. We have a modified experience for viewers using ad blockers

Wikia is not accessible if you've made further modifications. Remove the custom ad blocker rule(s) and the page will load as expected.