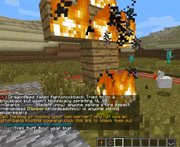 Chips the Chicken is an admin on Al's Minecraft server disguised as a chicken.
Chips followed Al on one of his Stooby Gacks videos, Stooby Gacks - Minecraft Safari - Episode 3 - Part 1 . It is not known who this admin was, although earlier in the video Vyper08 is disguised as a chicken, and JusticeManJoe hints that it was he himself who was Chips.
It seems that Chips is either an anti-Christian or a racist, as he is seen burning a cross near someone's territory.
Chips is also seen shooting arrows at people.
Ad blocker interference detected!
Wikia is a free-to-use site that makes money from advertising. We have a modified experience for viewers using ad blockers

Wikia is not accessible if you've made further modifications. Remove the custom ad blocker rule(s) and the page will load as expected.