Bimmie James
is one of Tau Drone companions reviewed by Al.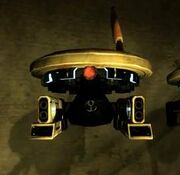 In Al's videos
Edit
Bimmie James made his first appearence in Companion Threefer!. Originally, Bimmie was named Kor'vesa 54.E#31 but Al was not too fond of it and used a console command to rename the drone. Al was impressed with his and Dingy BicLingDong's firepower. Bimmie James and Dingy BicLingDong made a reappearance starting in Fallout New Vegas Modded - Part 66 along with the other three Tau Drone companions which Al had previously left inside of the tent.
The Tau drones later returned in Prove Your Worth 3 - Part 3 , though it is unknown if Al considered them to be the same Bimmie and Dingy.

Despite their firepower, the volume of their weapons coupled with their tendency to continue firing long after a fight concluded usually irritated Al.