This page is about a robot named after Ballarms. For other robots named similarly, go to the Captain Ballarms, Not-Ballarms or Red Ballarms pages.
Ball²
(also known as
German Ballarms
by fans) is
Captain Ballarms
' German cousin whom
Al
does not like.
Ball² first appeared in Fallout New Vegas Mods: Wasteland Thrash -Part 1 and was the product of a glitch where Ballarms was accidentally "cloned" when Al entered the Reactory Hideout for a review of Wasteland Thrash.
Appearances
Edit
Al was confused that there were two Ballarms in the house and accused Ballarms of building another Ballarms while Al was away. Ball² kept following Al and he was annoyed at his presence. Al lost him in Boulder City and was glad that happened.
At one point, he has lived under AlChestBreach Headquarters before Al actually moved in. He had a pod under the building that was surrounded by small flames on the floor. In FNV Mods: Liberty Reloaded & The Canyons Have Eyes - 1, Al reviewed the house mod and came across the pod. He immediately panicked and went on with the video in fear that Ball² might show up.
Al assumed Ball² was German because of the locations added by Wasteland Thrash was partially in German.
Al can differentiate Ball² from Ballarms because the former doesn't speak.
He is similar to Scratch as they are both clones of another companion, in this case being Ballarms.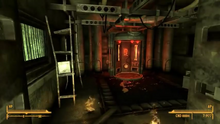 Ad blocker interference detected!
Wikia is a free-to-use site that makes money from advertising. We have a modified experience for viewers using ad blockers

Wikia is not accessible if you've made further modifications. Remove the custom ad blocker rule(s) and the page will load as expected.