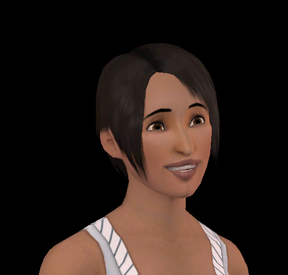 Ayesha Ansari
 is a pre-made sim from The Sims 3. She had a crush on
Harold
and is a minor character in Al's playthrough of the series. 
Ayesha Ansari
Edit
Ayesha is a young adult who asked Harold out on several dates through the course of his Elder life. On the day before Harold was about to die, she asked him to go with her to a sports game, to which he went and then promptly left after talking for a few minutes.
She finally resurfaced in episode 66, where she hired Bobby to expel ghosts from her house. She thanked him for his work and watched as he went off to talk to Sandi French.
She appears again in episode 77, when she asks Bobby to exterminate more ghosts from her house. While on the job, Bobby talks to Ayesha and learns several of her traits while there; also stopping to flirt with her several times. In the same episode, Bobby invited her over to the Duggart house on a date. The two flirted back and forth with each other until they moved in to kiss. She left the house satisfied with their date.
Since Bobby started to pursuit Kimmy Koal, who is now his wife, he has stopped seeing Ayesha.
In episode 88, Mageru finally met Ayesha in Varg's Tavern, the only bar in town, where they talked and danced the night away. 
In episode 101, Ayesha called Mageru to come and extinguish a fire that was consuming her house. Although he was easily distracted, she thanked him for his efforts.
In episode 104, Mageru and Ayesha become old friends, as Mageru had not communicated wth her in a while. She later called him in the episode however, meaning that she still wants to be friends.
In episode 111, Bobby wrote Ayesha a love letter with about five words on it and sent it to her. She later said she was no longer friends with Mageru.
In episode 113, the sim of Al himself went to her house while a fire occurred and conversed with her while Al made fun of his shoes. She thought they were nice.
It was revealed in episode 138 by an in-game message that she had finally died of old age.
R.I.P. Ayesha Ansari
Episode 21-138
In Episode 22, Ayesha asked Harold on a date and then didn't show up.
It's possible that she knew about Abraham's plan to kill Harold. This explains why she asked him out on a date the day before his death, although she ultimately failed in protecting him.
She was a witness to Harold's death and ran away as soon as it happened; indicating that she only wanted him for his money. 
She frequently asks Bobby and Steven on dates now, probably in an attempt to move on from Harold's death. She always gets turned down though.
Bobby wanted to hang out somewhere with her in episode 75, although when he called, she said she was busy.
Ad blocker interference detected!
Wikia is a free-to-use site that makes money from advertising. We have a modified experience for viewers using ad blockers

Wikia is not accessible if you've made further modifications. Remove the custom ad blocker rule(s) and the page will load as expected.