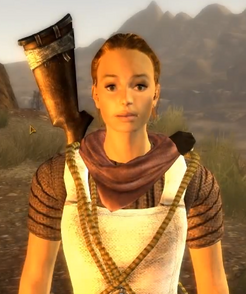 Alice is a young teenage girl who joins Al as a temporary companion in Fallout New Vegas Mods: Chopper Cops - Part 3.
She ran away from her home to escape from her overbearing parents and was living out by herself on the Nipton train tracks. Al receives a mission to go and retrieve her; starting up his vertibird to his desired location. 
Once arriving, a flock of ghouls and raiders attacked from both the north and the south, forcing Al to defend Alice as she also fought off the enemies. After landing, Al talks to her and convinces her to join up with the Chopper Cops, an offer she happily accepts.
On the ride home, Alice makes it a point to press all of the different buttons on the machine, which caused the vertibird to 'spaz out' in a way where the machine was plunged into utter chaos. Although it was a rough ride, they make it back to the base somewhat safely and Alice joins the Chopper Cop team, thus leaving Al. It is unknown if she will ever join Al again. 
She likes to cook buckets and eat them. 
Alice, while watching the captain, has learned to wipe her nose and then lick up the goo from it. Al found this very disturbing. 
Al thinks she is a "sexy girl" and frequently calls her that while rescuing her. 
Ad blocker interference detected!
Wikia is a free-to-use site that makes money from advertising. We have a modified experience for viewers using ad blockers

Wikia is not accessible if you've made further modifications. Remove the custom ad blocker rule(s) and the page will load as expected.