Al's Mod Conclusion Montages are mini montages that have begun appearing at the end of his Fallout: New Vegas mod reviews. They began during his review of "NV Hunter's Association." The mod conclusion montages have, so far, appeared in several consecutive reviews, so it's safe to assume that they will continue in the future. It isn't known what prompted Al to start the mini montages, but it could have been started to freshen things up a bit, to surprise his fans, or to compensate for his lack of recent montages.
NV Hunter's Association
Edit
This montage showed Al trying to get GooGoo Bars from a merchant who just kept making him murder molerats, assuring him that THEY were GooGoo bars. Eventually, Al killed him, and made his body into Gore Guns.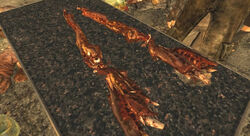 The Deterrent
Edit
After hearing of Paladin Jameson's death while reviewing "The Deterrent", Al sings an autotuned song in his best friend's memory, and buries him.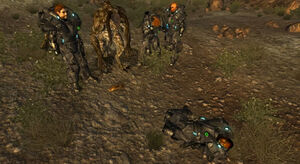 Run A Shop!
Edit
After becoming extremely frustrated with the mod, Al decided to cut his losses and blow the store up for insurance money. And Jimmy, the ghoul employee, despite having his head blown off, is revealed to have survived. This could be a possible future storyline for a montage. Or it follow in the footsteps of the 500th subscriber video and the phone eating a turkey sandwich video, i.e. never happening ever.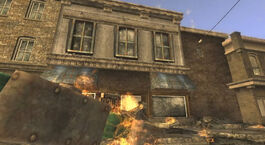 Meyla the Berzerker
Edit
After acquiring B.A.L.L.A.R.M.S ver 8.0 as a companion, Al decides to bring it and Meyla to the newly rebuilt Rita's Café, only for him, Steve, and Sizzler to bail on them through the back door and have an AC-130 bomb the café, killing Meyla, but only to reveal that B.A.L.L.A.R.M.S ver 8.0 survived.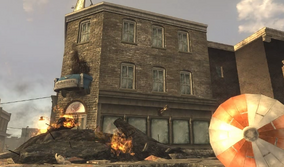 Ad blocker interference detected!
Wikia is a free-to-use site that makes money from advertising. We have a modified experience for viewers using ad blockers

Wikia is not accessible if you've made further modifications. Remove the custom ad blocker rule(s) and the page will load as expected.