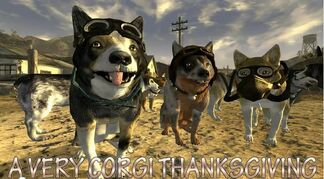 A Very Corgi Thanksgiving was a Thanksgiving special uploaded to youtube by AlChestBreach on November 25th, 2011.
The story revolves around a group of Corgi dogs who live in Goodsprings and make their living as mercenaries.
One day a stranger by the name of Dan Enrique comes to Goodsprings and questions Easy Pete about the location of the Corgis so he can eat them.
He doesn't recieve the answer he wants, as Pete keeps talking about change, so he shoots Pete and flees. 
"The Shot Heard Around the Corgi" as it is formally known, attracts the attention of the Corgis in Goodsprings.
Despite the warning, many corgis die, except Dog 1, Dog 2, and Dog 3. The remaining Corgis go from house to house in Goodsprings, defecating in various places. Eventually, they are kicked out by Doc Mitchell as his living room was now flooded in feces. The Corgis were then left to wander the wasteland.
They eventually succumb to the conditions in the Wasteland as Goodsprings celebrates thanksgiving.
Goo Goo Bars sponsors the program, as mentioned, and also gives occasional commercials during the special.